Now that you've read about the Teton HxD Driver, you may not need much incentive to purchase it for a mere $99.
But just to sweeten the deal, we're throwing in an incredible free bonus:
The Speed Snap Swing Trainer
Improves your tempo, lag and timing for big distance and uncanny accuracy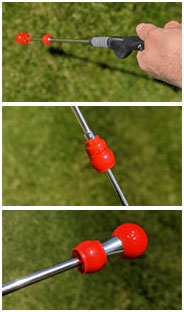 It's simple:
The Speed Snap helps you not just make the moves that will boost your power and consistency…
It helps you feel them. That's how you build the muscle memory needed for long-term success.
The Speed Snap is an amazingly effective swing trainer you can use anywhere, indoors or out – at home, in the office or wherever you happen to be.
In short order, you'll notice dramatic improvement in three key areas:
Tempo, lag and timing.
Improving just one of these can contribute to increased speed and distance PLUS better, more consistent ball-striking, all the way through the bag.
Improving all three can literally be a "game-changer."
The Speed Snap's key features:
A shorter shaft than an actual golf club, so you can swing it in a fairly small space.
A formed grip that automatically positions your hands for a free swing.
The adjustable Speed Snap ball, which slides down the shaft as you come into the impact zone and makes an audible "crack" at the moment you reach top speed.
No more wondering, "Am I swinging as fast as possible at exactly the right moment?" Now you'll know.
And the proper moves will become second-nature – very, very quickly.
Pair the Speed Snap with the Teton HxD Hybrid Driver and what do you get?